Welcome to Spit Records the virtual home of Northern Ireland punk. Formed in 2011 by Sean O'Neill, co author of the book - It Makes You Want To Spit!
My aim is to issue previously unreleased late 70s, early 80s recordings by Northern Ireland's PuNK and New Wave bands and at the same time to build a detailed information resource on the bands from that era. The punk scene in Northern Ireland was set against a backdrop of spiraling troubles, curfews, home-made mortars, car bombs, Maze hunger strikes, security checks as you entered the city centre and worst of all… show bands in goddamn flares! Northern Ireland needed punk and it became one of the last strongholds in the UK.
PunK was never a spectator sport, so please do contact me if you have any information, photographs or suggestions for future releases. Alternatively you can leave your comments via the guest book. Despite being a one man operation this site is constantly being updated and extended, so do keep checking back.
The debut release on Spit Records was a live recording by The Outcasts - a 14 track CD, Vive Lyon! The follow up release entitled Shellshock Rockers contains 24 previously unreleased studio recordings from 1978 to 1981 - six bands contribute four songs each.
This was followed by Shellshock Rockers Vol II, which contained 20 previously unreleased demos recorded between 1978 and 1985 from a number of different bands including The Icons, The Lids, The Xposers and more!
Our latest release has been 35 years on the making! Shock Treatment split in 1982, but reformed in 2011 as Shock Treatment 21 and Spit Records have released their debut album - The Days Of The Buckshee Bounce Are Nearly Over. The album contains reworkings of old material together with a sprinkling of new material.
If you would like to subscribe to our mailing list, then simply email spit77to82@aol.com and put Add To Mailing List in the title.
All web site updates are simultaneously posted on the Spit Records Facebook page and via Twitter.
NEW!
Spit Records are pleased to announce the second in our special Limited Edition series of 7 inch Vinyl. The first being the three track EP by Belfast band Victim, for which have just a few copies remaining!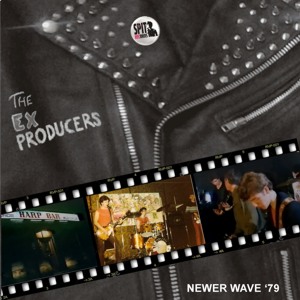 Cat. No. GOB 6
Format: 7 inch Vinyl
(Limited Edition - Only 300)
£5.99 + Shipping
This new record brings you the legendary Ex Producers track 'Newer Wave '79', which finally gets released as the single that it should always have been!
Originally released for the first time by Spit Records back in February 2012 in CD format, together with 'P-Check' from the same session, on the long since sold out 'Shellshock Rockers' CD.
Now on this limited edition 7" EP (300 copies) Spit Records have also included the previously unreleased tracks 'Loyalty' and 'Hole In The Head' from the same 1979 sessions recorded at Downtown Studios and engineered by Stephen "Rastus" Nelson (R.I.P.) ..
Next up in the series comes 'The Cloak Of Darkness EP' by Belfast Legend 'Rudi', also contains previously unreleased tracks - so watch this space!